'Applying coatings yourself produces maximum results' 
Increasingly more companies are cleaning the greenhouse cover using a roof-washer. This machine is easy to expand with a spray-boom so you can use it to meticulously and uniformly apply a coating yourself whenever necessary.
Clean first, then apply the coating
Increasingly more growers throughout the world are purchasing their own greenhouse roof-washer. They clean the greenhouse cover anywhere between two to even ten times a year to allow more light in. 'During part of the year, the sunlight may become too bright, thus causing crop problems. When this happens, shading agents are frequently used to protect the crop against too much light and heat,' says Jorien Plak-Schouten of Besseling Techniek.
In some countries there are contracters that specialise in applying coatings. However, in most regions growers must organise this themselves.
'Applying a uniform coating manually or by helicopter is a difficult undertaking. The law often prohibits growers to walk on the greenhouse cover and even when it is allowed, we recommend against it for safety reasons. Flying over the greenhouse with a helicopter is also not permitted everywhere. Even if a helicopter service or spary-plane is avaialble, you are still dependent on the pilot's workmanship. It is very difficult to uniformly spray the greenhouse cover without a splatter result or skipping parts. In addition, there is the problem of overspray,' she says.
'Before a coating is applied, we recommend you first clean the greenhouse cover so that the coating adheres better and uniformly protects the crop.'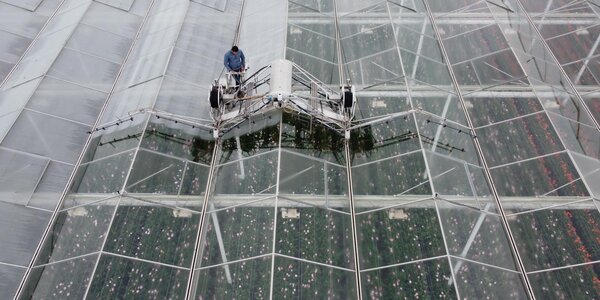 'Before a coating is applied, we recommend you first clean the greenhouse cover'
Jorien Plak-Schouten of Besseling Techniek
Simple solution
'If you already have a greenhouse roof washer, the solution is simple. Our Roofmaster roof cleaner can be easily expanded to become a washing and coating machine in one,' she says.
Spray booms with nozzles are attached to the machine and are suspended approximately 20 centimetres above the glass. The liquid is mixed in a mixing tank with an agitator and is pumped to the machine under high-pressure.
'A knob on the machine is dialed up to increase its speed and you are all set. Many roof-washers today are equipped with spray booms as a standard feature, which means the decision to look after the application yourself has already been made,' she says. Owning your own equipment ebables you to quickly coat large surface areas when that best suits you. 'Our customers often decide to purchase their own machine because it increases their flexibility. You can apply the coating when you crop needs it. In addition, the layer is far more uniform than when you apply it manually or by helicopter. This is important for ReduSol, but even more so for ReduHeat, ReduFuse and ReduFuse IR. A coating is an investment, an insurance policy against damage caused by excessive radiation. Of course you should then take care not to negate this investment in a machine by not applying the coating with care and precision,' says Jorien.
More production in the right season
The coating itself is one success factor, while its application is another. 'You could compare it to painting your house yourself. When you purchase the perfect paint but then apply it using an inferior paintbrush, you will never get the best possible result. This is how you should look at this as well,' she says.
'It is when you apply the coating with care and precision that you increase its added value. That is when the investment pays for itself. You achieve higher production and quality than a competitor who during the same period of time fails to take any action,' she concludes.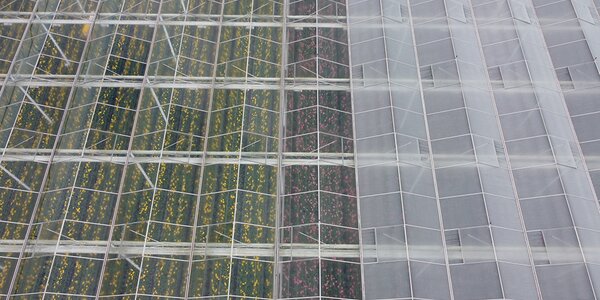 'It is when you apply the coating with care and precision that you increase its added value'
Jorien Plak-Schouten of Besseling Techniek