Disinfecting and cleaning greenhouses more and more requires a custom approach
A crop rotation is a perfect opportunity for thoroughly cleaning the greenhouse. This is more than necessary during the present times when virus-related problems are on the increase. A clean start is a primary requirement for a healthy crop.
There no longer is such a thing as a standard approach, says Barry van Leeuwen of contracting firm De 3 Koningen. "Many growers are asking us and their crop consultant for advice. We customise our work based on their crop, disease pressure and the grower's preferences. This way we develop recommendations for disinfection and cleaning," says Van Leeuwen.
He manages the family business together with his brother Dennis in the town of Steenbergen in the Province of Noord-Brabant in the Netherlands. They took over the company three years ago from their uncles, the brothers De Koning, who gave the company its name.
"A clean greenhouse is a key determining factor for future crop production. Growers are well aware of this, but proper cleaning takes time. We continue to see customers who have very tight schedules because they do not want to miss any production days. But when a serious disease strikes your crop you'll lose far more production," he says.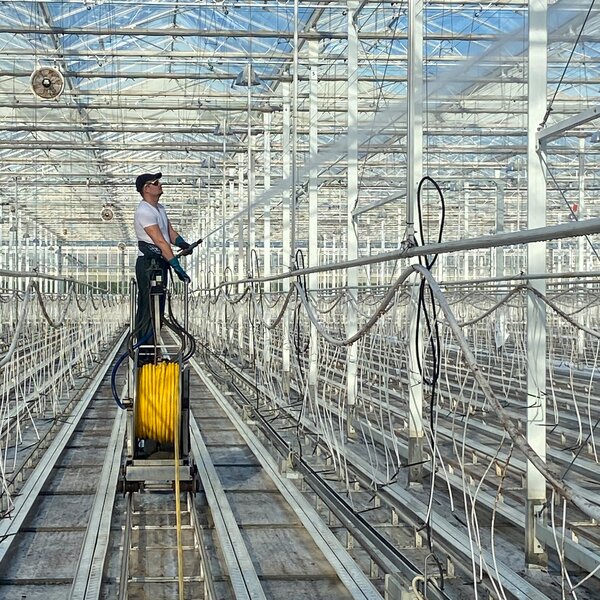 GS-4
The contractor uses fixed protocols that they agree on in advance. First, the greenhouse is emptied and all vegetation is removed. This is followed by alternating rounds of disinfection and cleaning depending on need and the grower's wishes. "Fogging with formaldehyde or hydrogen peroxide is a fixed component. Disinfection using foam is also becoming increasingly common. We often use GS-4 or GS-4 Xtra during the cleaning process. The benefit of this is that this product effectively removes any organic dirt, while at the same time it is not too aggressive," says Van Leeuwen.
The belief in the past was that you needed aggressive fluoride agents to achieve proper cleaning. "However, nowadays customers prefer agents that are safer for their employees, and that do not damage the glass and materials. Because of the latter, the use of chlorine has also declined over the last ten years. GS-4 is perfectly consistent with this trend," he says.
De 3 Koningen cleans about 700 hectares of greenhouses. Vegetables and soft fruit are grown in the majority of these greenhouses. "ornamental greenhouse do not really work with crop rotations but here too GS-4 Xtra is highly suitable for cleaning during a crop change."
Cleaning the greenhouse cover
Aside from the inside, they also clean the outside of the greenhouse. "This is very important for achieving the highest light levels. Normally speaking, water and soap is used for this purpose. However, sometimes a more intensive approach is required, for example in case of certain contamination or chalk deposits on the glass. GS-4 or GS-4 Xtra is also very useful for this purpose. These agents effectively clean the glass without damaging it."