Manually coating in the UK: every greenhouse requires custom work
Even the British royal family is among his customers. Mike Spapé specializes in cleaning and coating non-standard greenhouses.
There are many greenhouses in the United Kingdom and Ireland that are impossible to clean or coat mechanically. The most striking such greenhouses are the beautiful historic greenhouses that are part of country estates. But the largest part consists of aging greenhouses that have a non-standard appearance. Sometimes these are old greenhouses from the Netherlands that have been given a second life on the other side of the Channel. They are often used by potted and bedding plant growers because they are excellent for growing plants.
However, cleaning and coating the greenhouse cover is challenging. With his company Greenhouse Services, Mike Spapé specializes in these greenhouses.
Manual coating
He was born in Westland, a region in the Province of South-Holland in the Netherlands, but love drew him to the county of Cheshire in the United Kingdom. "In the United Kingdom, many people have a sunroom attached to their homes. These too must be cleaned. This is where I started, but via National Trust, an organization that manages heritage, I ended up working on greenhouses," he says.
One thing led to another and today he has customers across the entire country, as well as Ireland. While Spapé at times makes use of machines, the largest part of his work, including cleaning and coating, is done manually.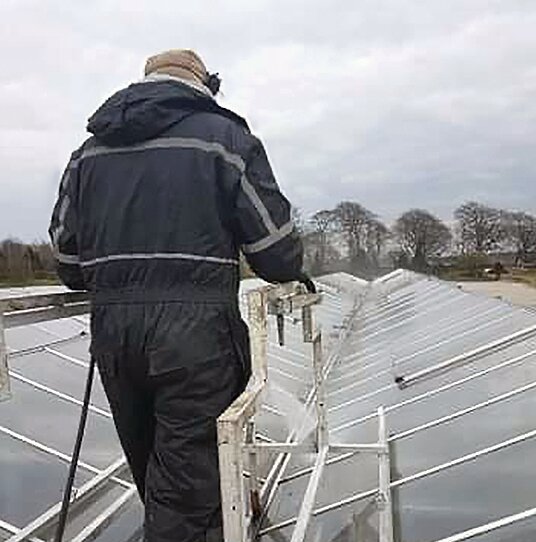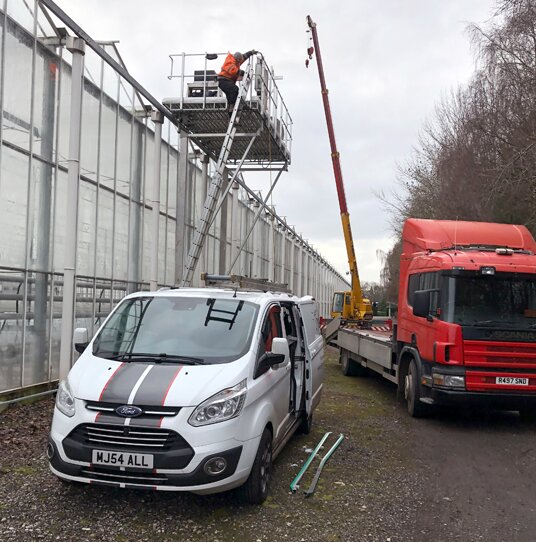 He takes a pump of considerable capacity, hoses, a spray gun and a safety cart for gutters along with him when he visits his customers. Once there, he uses a ladder or an aerial platform to climb onto the greenhouse cover. "The safety cart keeps me stable when I walk along the gutter. This cart is a legal requirement to be allowed to work on a greenhouse cover. In some cases I am able to attach spray booms to the safety cart, which enables me to work faster," he says. In some instances he is assisted by his colleagues.
Preference for ReduSol
"Most of my customers grow potted or bedding plants, but I also visit tomato growers. I have a strong preference for ReduSol because this coating creates an excellent cover and is easy to remove with ReduClean. Some customers initially want to use local brands, but often I manage to convince them of the benefits of ReduSol," he tells us.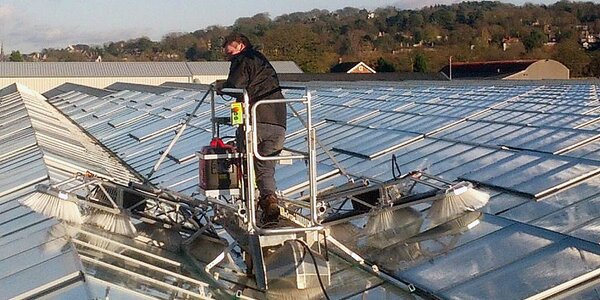 "I have a strong preference for ReduSol because this coating creates an excellent cover and is easy to remove with ReduClean".
Mike Spapé, Greenhouse Services
He is busy throughout the entire year. Some customers want a coating to be applied to the roof every April, which is then removed again at the end of August. However, relatively many growers deviate from this practice. "The growing methods used here vary strongly. For example, some growers use a very short crop growing cycle in the summer. They require effective screening and have the coating removed again after a few weeks. Others leave the coating in place as long as possible, until the rain wears it off," he says.
Royal Family
His customer base varies and includes some very special customers, such as the Royal Family. Spapé looks after the royal super nursery in Hyde Park, which is owned by the Crown. Other prominent objects include Chatsworth House and Eden Project. Currently he is focusing on the greenhouses of the world-famous botanic Kew Gardens.
The work on an uncommon greenhouse cannot progress very fast. "On a good day we manage to do one hectare per day," he says. "The unpredictable weather in the United Kingdom is a complicating factor. As a Dutchman I am used to all kinds of weather, but here it is even more difficult to plan things. To achieve a good coating, it must stay dry for a guaranteed period of time. That means we constantly need to keep an eye on the weather forecast and once in a while we are forced to stay overnight in a hotel to wait for better weather conditions."