Overhaul with PipePaint easier than expected
After twenty years, the heating pipes at the Jansen Hoeven tomato nursery were due for a thorough facelift. "We were already working on the crop change when I read an article about PipePaint," says Carlos Jansen. "After placing a call to the supplier, we had it here the next day. The result is fantastic, the pipes look like new again."
The Jansen Hoeven tomato nursery produces single round tomatoes that make their way to market via the Oxin Growers association. The eight hectares of greenhouses and the 51 mm heating grid are 20 years old. The heating pipes recently got their first major overhaul with Lumiforte's PipePaint.
Postponed for a long time
"We put off this maintenance far too long, mostly because we had the wrong impression about it," Carlos frankly admits. "In the past, painting pipes was a very unpleasant task with health risks. The prospect of having to paint kilometers of 51 mm pipes with a toxic coating while wearing protective suits and facemasks and then heat drying the pipes was not a very attractive proposition."
Fortunately, this image proved to be wrong. This is what this young entrepreneur discovered in November 2022 when he read about PipePaint in a newsletter. This water-based coating dries at lower temperatures and does not emit any toxic vapors. Furthermore, PipePaint results in a light gain inside the greenhouse and improves the pipes' heat emission. "I wanted to start working on this as quickly as possible, because we had already started the crop change," says the grower.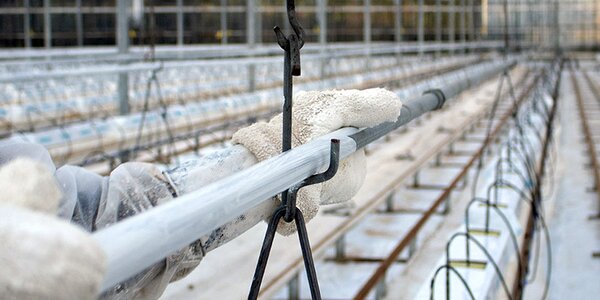 "Today, the aisles look pretty dismal because of the brown pipes, but soon they will also look like new. Then they too will reflect light again instead of absorbing it."
Carlos Jansen, Jansen Hoeven tomato nursery
Finally we got to get to it
Jansen called his supplier, Klep Agro, which was able to supply the product from stock. The nursery had the needed paint in-house the very next day, including rollers and painter's mitts to apply the coating efficiently and in a user-friendly manner. However, the pipes first had to be cleaned, because barely anything was left of the original paint layer.
"The pipes were brown from rust," Carlos continues. "I still had a roll of chicken wire lying around and we used it to make improvised scouring pads. One crew of employees sanded and then cleaned the pipes, a second crew followed the first with PipePaint and painter's mitts to apply an equal coating. It ran like clockwork."
Two stages
During the crop change, all heating pipes along the gable ends and all growing pipes in the rows of plants were treated this way. Because employees were not hindered by crops and twine, the work ran smoothly.
The pipe rail heating in the aisles will be treated in the near future. Carlos hopes to be able to do this with an old, electrostatic paint sprayer, which will be overhauled for this purpose.
"Hopefully we will be able to get it working again soon and – literally – get it back on the rails," he says. "Coating mechanically goes faster and is far less labor-intensive. Today, the aisles look pretty dismal because of the brown pipes, but soon they will also look like new. Then they too will reflect light again instead of absorbing it. My plants are certain to benefit from this," he says.
PipePaint's threefold advantages
PipePaint is a water-based coating that has three functions. The first is to provide protection against rust. Secondly, the coating improves the reflection of light from heating pipes by up to 50%. Third, the coating improves heat radiation by 10%.
Because PipePaint is water-based, you do not need to be concerned about vapors that are harmful to crops or humans. For any crop, the paint can simply be applied while it is being grown, without causing any damage to the crop.