ReduSol combined with three screens produces high quality orchids
Neil and Mike van Steekelenburg established their orchid nursery CosMic Plants in Beamsville, Ontario in 2004. They took along their Dutch cultivation expertise and knowledge but had to find a solution to the challenging climate. The ReduSol coating plays a key role in this respect.
The two brothers have their roots in the Netherlands, but are highly internationally oriented. Neil has spent a lot of time in Ireland and his brother lived in Arizona where he worked for Eurofresh, the largest tomato company in the world at the time.
"When we sold the parental farm in the Netherlands, we could have established ourselves as growers anywhere in the world. In Ontario we focused on the market opportunities there and saw clear prospects for quality orchids (Phalaenopsis). We were convinced of our ability to deliver top quality orchids. I first emigrated with my Irish spouse. My brother joined us later," Neil says.
They started off with half a hectare and cultivated the young orchids entirely from scratch themselves. It takes 1.5 years before they bloom, so in the interim they grew a number of other crops to generate cash flow.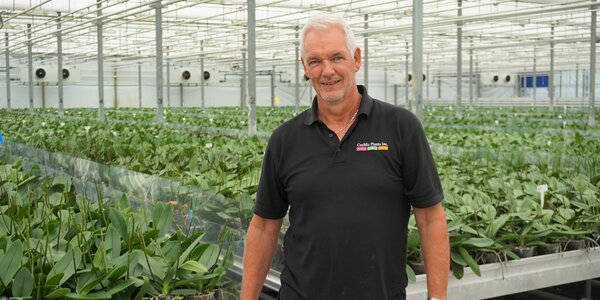 "On a partly cloudy day you'll want to let the light in when there are clouds, but reflect the light when the sun breaks through. You are then always too late with the fixed screen. A coating creates calm in the greenhouse"
Neil van Steekelenburg of CosMic Plants
Year-round Sales
"Initially we started off with 2,000 plants per week. By now this has risen to 33,000 plants per week covering three hectares. We sell them throughout Canada from east to west. Approximately one third of production is shipped across the border to the US, primarily via wholesalers," he says.
While Valentine's Day and Mother's Day generate sales peaks, the orchids are sold year-round. The market completely collapsed at the beginning of the Covid-19 pandemic. But because supermarkets decided to continue to sell orchids, the market later improved again.
CosMic Plants serves the high end of the market. The brothers are happy that potted orchids have managed to keep their exclusive status in Canada and the US.
The two brothers brought a treasure of cultivation knowledge along with them and are keeping this up to date by closely monitoring what their colleagues in the Netherlands are doing. "We thought that we had an excellent handle on everything, but the regional climate proved to be a real challenge. Severe winters and high solar radiation in summer. Fortunately we are located close to Lake Ontario, which dampens the extremes somewhat."
ReduSol
Orchids originate from the jungle and are shadow-loving plants. They have to be protected against bright light. This is why Van Steekelenburg wanted to already start applying chalk at the beginning of February. "But that doesn't work at all in Ontario. The greenhouse cover can be covered with snow up until April. This is why we developed a combination using screens and chalk," says this grower.
This was a process of trial and error and learning from experience. Today they have three screens: an energy screen, a diffusion screen and a blackout screen. "The latter enables us to block light emission by 98%. The rules applying to light emission are not as severe here as in Leamington, but in any event we are well-prepared. Today we primarily use this screen as an additional energy screen."
The interplay between screens makes it possible to attenuate radiation during the period when ReduSol has not yet been applied to the greenhouse cover. "For example, we close the blackout screen halfway and the diffusion screen entirely. That significantly attenuates light radiation, while the diffusion screen ensures uniform light distribution throughout the greenhouse," he says.
Coating as soon as possible
As the year progresses, it becomes increasingly more difficult to use the screens to create the right conditions. This is why Van Steekelenburg is happy when it is finally possible to apply ReduSol. This is done as soon as possible, sometimes by mid-April, but preferably at the beginning of the month during dry, sunny weather with temperatures above 6ºC. He engages a contractor in the Leamington area for this purpose.
"The last weeks before we apply the chalk always are a challenge. On a partly cloudy day you'll want to let the light in when there are clouds, but reflect the light when the sun breaks through. You are then always too late with the fixed screen. A coating creates calm in the greenhouse," he says.
ReduSol is absolutely necessary later in the year to counter extreme heat. Phalaenopsis grows at 29ºC, but requires a period of 19ºC to enable it to bloom. "Without ReduSol it is impossible to sufficiently lower the temperature in the cooled section. But during periods with high radiation you'll also have problems in the warm section. When the outside temperature is 35-37ºC, it is not possible to reach the right growing temperature without a coating. Chalking is really necessary."
Cultivating safely
He also considered the heat-reflecting ReduHeat coating, but found that it still lets too much light through. Orchids are gradually being grown at somewhat higher light levels than in the past. This increases the pace of growth and production. "But we prefer to stay on the safe side. We are not concerned when we need to keep them in the warm section a week longer. We like to play it safe," he says.
Once it is possible to do this, he asks the contractor to remove the coating again with ReduClean. Generally this is around mid-September. Van Steekelenburg is happy with the screen-ReduSol combination they have developed.