Use of machines for meticulous coating 
A modern coating must be applied to the greenhouse cover as uniformly as possible. Using a machine for this purpose is far more accurate than doing this manually. This is one of the reasons why increasingly more companies acquire a roof washer with a spray option.
The ReduSystems coatings work best when they are uniformly applied to the greenhouse roof. That way all plants in the greenhouse are sufficiently protected. It also ensures uniform crop growth because conditions are the same throughout.
Correctly applying the coatings requires close attention. "Machine application is preferred over manual application. A machine is safer, faster and far more accurate. This accuracy also is an advantage over spraying by helicopter or aeroplane. Furthermore, there are fewer losses because you are not spraying beside the greenhouse or in the gutters. That saves money," says Tom Zwanenburg of Van der Waay. This Dutch company specialises in building greenhouse roof cleaners and coating machines for greenhouses.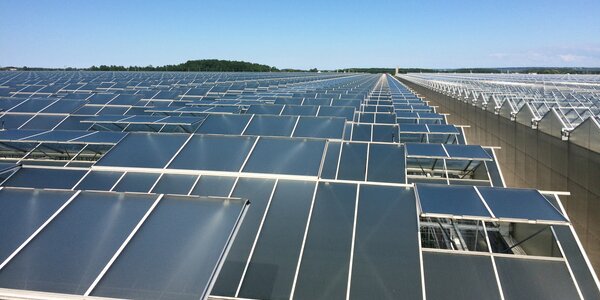 'Machine application is preferred over manual application. A machine is safer, faster and far more accurate'
Tom Zwanenburg of Van der Waay
Instructions
Many companies already own a machine designed to brush and wash the greenhouse roof. Machines like that are easily set up with a "spray-set". The spray-set consists of a membrane pump, mixing tank and spray booms with special nozzles.
"Using a machine like this to do your own application is not complicated once you understand the underlying principles. You need to watch the weather conditions, properly adjust the machine's settings and properly maintain it. When it is too windy or too humid, you will not get good results. In addition, you must ensure that the nozzles are suspended at the proper height above the greenhouse cover," he says.
When a Top Cleaner or similar type of application machine is first put into operation by Van der Waay, the customer receives in-depth training from a specialist. Video tutorials are also available. Combining a roof washer with a "spray set" doubles your advantage. "Keeping your glass clean pays for itself. Being able to apply or remove a coating at the right time also translates into money," says Zwanenburg.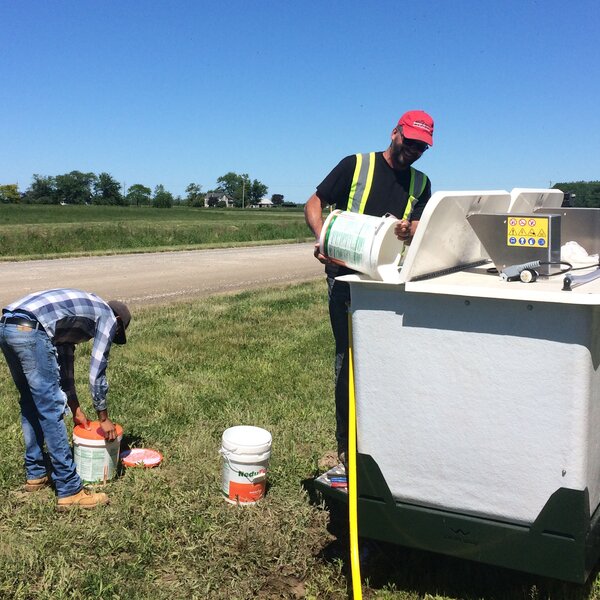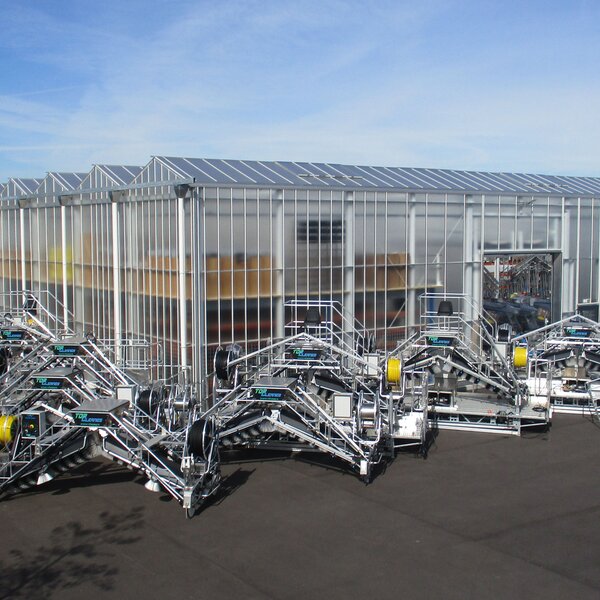 Care and attention
He emphasises that a good machine is just part of the story. Working meticulously is the other part. "There is room for improving awareness of the importance of applying a coating correctly. It is important for the head grower to be involved, especially at the first application. After all, a coating has a major impact on the crop's result in the greenhouse," he emphasises.
To achieve a uniform layer it is important for all nozzles to put out the same amount of fluid and that the driving speed is aligned with the output. "You can regulate this yourself, but with an onboard spray computer this is even more effective. This computer constantly calculates the flow and the output, and adjusts the driving speed accordingly."
Maintenance
It also very important to properly maintain the machine to ensure its effective operation. "That means cleaning the machine after every use and replacing the nozzles on time. These nozzles will wear out over time and will then produce an uneven spray pattern. You have to make sure to prevent this."
Van Der Waay constantly continues to develop its machines. Over time they have become lighter and easier to operate. In addition, instructions about using the proper coating concentration has received greater attention. "It is crucial that you apply the right number of buckets per hectare and that the right quantity of water is used to dilute the product. We have seen some mistakes from time to time. This is why we devote a great deal of attention to providing proper instructions," he concludes.