Cherries under covering benefit from coating 
Cherries grown under plastic arched covers can become soft and wrinkled during warm weather. Trials at the Proeftuin Randwijk (trial garden) show that ReduHeat and SprayChalk can contribute to the solution.
In the last few weeks before harvest cherries are very sensitive to rain. The fruit can crack when it absorbs too much moisture. This is why growers often protect the trees with plastic arched covers. 'The covers generally are made of clear film and aeration is poor. This can cause the temperature at the top to rise to as high as 45°C during warm weather. In the most extreme cases this can cause 20 to 30% of the harvest to be lost because some of the cherries are no longer suitable for sale. In addition, it also requires additional work to separate out the bad fruit,' says researcher Johan Sonneveld of Fruitconsult/Proeftuin Randwijk.
Proeftuin Randwijk is looking for solutions to lower the temperature below the covers. Generally speaking there are three options: ventilation, sprinkling and coating. 'Ventilation does not work effectively because the cherry trees are very dense. Sprinkling effectively lowers the temperature, but not every grower has access to the required water,' he says. In addition, sprinkling creates a humid climate, which is not always positive.
ReduHeat or SprayChalk
This is why he conducted trials in 2020 to evaluate the effect of coatings. The conclusion after one year is that ReduHeat, as well as SprayChalk offers possibilities, depending on the situation. Sonneveld: 'SprayChalk was most effective for a temporary temperature decrease of 4-5°C. When you are able to bring the temperature to below 40°C, this clearly prevents damage. During dark weather, SprayChalk reduces the light too much, but dark weather may coincide with rain. The rain largely rinses off the coating again, thereby increasing light. We see good potential for application in actual practice.'
ReduHeat, a heat-reflecting coating, lowered temperature by up to 3°C. 'This is somewhat less than SprayChalk. However, this coating is very well suited for use by growers that cover their crop for longer periods of time to eliminate the most severe heat spikes. The advantage is that there is far less light loss with ReduHeat and that it purely protects against heat. The conclusion after the first year: SprayChalk is good for a short period of time and must be reapplied after rain. Alternatively, ReduHeat offers a longer-term solution, but is somewhat more expensive.'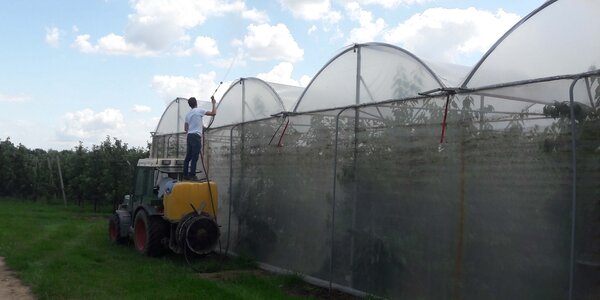 'SprayChalk was most effective for a temporary temperature decrease of 4-5°C'
Johan Sonneveld of Fruitconsult/Proeftuin Randwijk
Solution for existing covers
He believes that coatings can contribute to solving the heat problem for existing arched covers. The research will continue during the upcoming season. How to ensure uniform application needs to be further investigated, however.
'Cherry growers that are installing a new covered structure can take the heat problem into consideration in the design. That enables them to choose a different design and heat-reflecting film, for example. The covered structure is fairly expensive and costs approximately one hundred thousand euros per hectare and would therefore not be considered as replacement for existing structures 'A number of growers that visited our testing grounds considered the coatings an interesting option,' he concludes.