Gerberas flourish under ReduFuse IR in Hungarian summer
The question is how best to keep gerberas productive in summer in the hot continental climate of Central Europe. As a consultant to growers, Alfred Forray has had good experience with ReduFuse IR.
Forray is a crop consultant for the renowned Hungarian greenhouse company Floratom in Szeged in Southern Hungary. The company's key crop is its 20-hectare tomato crop. In addition there are three hectares with sweet peppers, one hectare with mini cucumbers and three hectares with gerberas. Approximately five hectares are high greenhouses, the other hectares are lower gutter height. This makes climate control a challenge in summer.
'In the past, they used to apply shading compound on the greenhouse above the gerberas, using spray chalk or a similar product. We tried everything over time, but the simple chalk products did not suffice. 'They made the plants too vegetative, the flower quality was poor and they were difficult to remove,' he says.
'Closing a shade curtain in summer was also not a solution, because that made it even hotter inside.'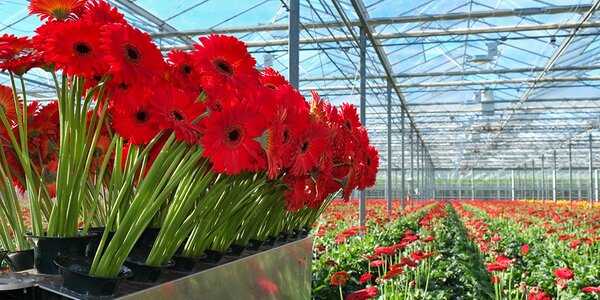 'Closing a shade curtain in summer was also not a solution, because that made it even hotter inside.'
Accepting more light
It required a shift in thinking to switch over to ReduFuse IR. This is because gerberas are able to convert quite a bit of light into production, provided that light is well distributed and the temperature does not become too high.
Forray: 'We first switched over to modern coatings for our tomatoes and sweet peppers. We ultimately ended up using ReduFuse IR. We also decided to use this for the gerberas and the result is amazing. The flower quality and colour are much better, the stem stays more sturdy and it increased the vase-life. Furthermore, the leaves do not grow to be as long and limp.'
Forray also serves as advisor to his colleague gerbera growers. Ten hectares have since been converted to ReduFuse IR on his recommendation. 'It took some getting used to. At the beginning the response of growers was that it stayed too light inside the greenhouse. They were used to coatings that significantly reduce light levels and were afraid of damage. But now they are convinced,' he says.
More efficient photosynthesis
Gerbera has a thick canopy of leaves that lie on top of each other. In case of direct light, the top leaves process all of the radiation and therefore become stressed. For this crop diffuse light is therefore a major step forward, because many more leaves now participate in photosynthesis. In summer the temperature must also be kept down for optimal growth and to avoid growth disorders. This is why the combination of diffuse light and heat reflection is ideal.
'In Hungary there is about 30 hectares of gerberas. The flowers go to the domestic market, as well as to surrounding countries such as Romania and Serbia. A third of this surface area now uses ReduFuse IR at twenty buckets per hectare. The coating is applied at the beginning of April and removed at the end of September,' he says.
Forray is also in contact with rose growers in his country. They are also using ReduFuse IR but are increasingly interested in ReduFlex Blue. This coating reflects heat radiation and at the same time reduces the transmission of the blue light. This ensures longer flower stems.