ReduFuse removes the sharpness
Alstroemerias do like light. "By using ReduFuse you remove the sharpness while minimising the light loss," says Maurice Olsthoorn of Together2Grow.
Grower group Together2Grow consists of two companies that work very closely together: Van Veen Alstroemeria of Schipluiden and BZ Alstroemeria of Poeldijk in the Netherlands. They cultivate special varieties that have been awarded prizes on several occasions. This year for example they won the Glazen Tulp, last year the Dutch Flower Awards. They are beautiful clear varieties that look quite vulnerable. But actually this is not a problem, stresses Olsthoorn. "It is a light loving plant which is why we don't want to lose any light with a coating. Alstroemeria has difficulty creating its own climate because the crop transpires moderately. It very quickly closes its stomata. If you can postpone that then you have some extra gain."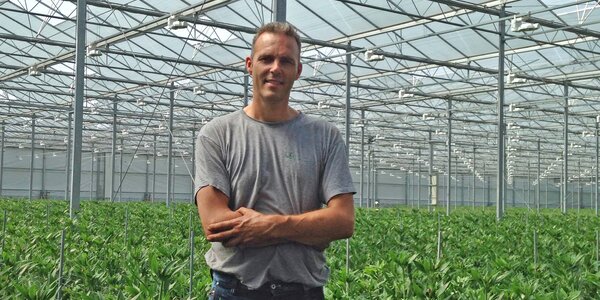 "Due to the diffused light you don't get the sharp separation between the light and dark bands."
Screens
When the radiation is high the leaves at the top can burn. That doesn't happen very quickly but as a grower you don't want that to happen at all. Therefore in the past they used to close screens. "But due to the heat we could never close the screen completely. You always had about 30% of unscreened strips where you did see some damage."
The introduction of ReduFuse therefore came just at the right time. Together2Grow has been using it for four years at both locations. In order to lose as little light as possible a thin layer is applied around 1 April. It is removed again in August depending on the long-term weather forecast. In addition to the light coating, screens are still needed occasionally when the radiation is very high. "Due to the diffused light you don't get the sharp separation between the light and dark bands," says the grower. "The light distribution is also better even under the screen. You don't see any difference in the crop size."
Gains on all fronts
Due to the diffused light distribution created by ReduFuse, the light penetrates deeper into the crop. The top receives a little less light; the lower areas receive a little more. In this way the top isn't stressed and can continue to assimilate while the lower areas assimilate more due to the greater amount of light. So there is a gain on all fronts. "Quality is simply better," says Olsthoorn. "In addition you can close the vents on the wind side so that you keep more CO2 and moisture inside. That is of course good for growth in general. That is particularly relevant in Schipluiden, where it is just a little more difficult to cultivate than in Poeldijk".
When ReduFuse was launched in the market they did a trial to compare it with ReduHeat. "We found that we lost too much light under ReduHeat. We are now satisfied and there's no reason to approach it differently. In addition, it's a nice bonus that it's much more pleasant to work under a diffused coating."