ReduFuse tempers harsh Auckland climate
The strong radiation in the area around Auckland (New-Zealand) can lead to a reduction in yield and to too much generative plant growth. Since Underglass NZ started using ReduFuse, yield has risen and the greenhouse climate can be controlled better.
Underglass NZ has two locations: Karaka where they grow several varieties of tomatoes, and Bombay where they grow both tomatoes and cucumbers (traditional and high wire). The total area under glass is 20 ha. The nursery started to use ReduFuse four years ago. "During that year the harvest was lagging behind. After we applied ReduFuse we saw many positive changes to the plants. It was one of the better years we ever had," says the crop manager, Jason Culbert. "Before we used coatings, the plants encountered heat stress and production slumped during the summer months." After the positive experience with tomatoes they are now using ReduFuse for the cucumbers as well. The results are also positive. ReduFuse makes the light diffuse so that it can better penetrate the crop. Then the older leaves can also contribute to photosynthesis. Furthermore the top of the crop suffers less heat stress under a diffuse roof.
Coating with a helicopter
Underglass operates with two planting dates: One in the winter and one in the summer. In this way they can supply the supermarkets year-round. The summer planted crop grows at an ever-decreasing light level reaching 600-700 Joules in winter. "ReduFuse is applied at the beginning of the summer (December)," explains Jason. "Helicopter company Oceania, of Drury, has sufficient experience to do that. They have adapted their equipment to get the best results."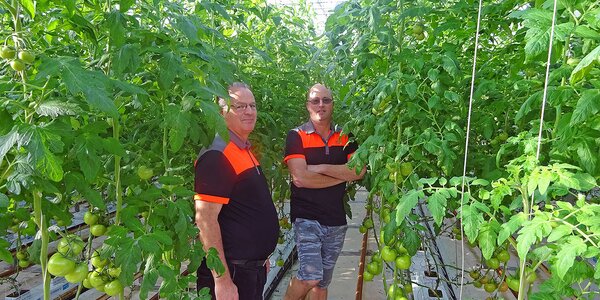 "We are satisfied with ReduFuse and we will continue to use it in the future."
Coating with a helicopter requires a lot of skill from the pilot. Mardenkro brought the company in contact with a helicopter company in Canada in order to exchange tips and experiences. "Removing the coating is also done by helicopter," says the crop manager. "They spray on ReduClean and the rain washes the coating off the roof. If there is not enough rain fall we use a roof washer to remove the last remains."
Crop advice
The climate in Auckland is not extremely hot with the high radiation they receive in the summer; the temperature hardly ever rises above 30°C. However, it is very humid due to its location between two oceans. That requires special cultivation measures to activate the crop. Mardenkro works with technical crop advisors who offer tips about climate control in conjunction with the coating. Jason mentioned: "In 2013 an advisor visited a few nurseries in New Zealand. We are still using his recommendations. We are satisfied with ReduFuse and we will continue to use it in the future."