ReduSol, shade-screens and roof sprinklers together provide the right  climate for growing lettuce
Growing lettuce in summer is a challenge. Excessive heat often results in tip burn or root problems. Wim van Dijck combines different measures to achieve positive results.
Wim and Ingrid Van Dijck-Mols grow different lettuce varieties in a 7,500 m2 greenhouse in Broechem, close to Antwerp, Belgium. They grow head lettuce throughout the year and in winter they also grow alternative varieties, such as Lollo Bionda, Lollo Rosso, and green and red oak leaf lettuce.
In the spring as the level of radiation increases, the crop increasingly needs protection. Van Dijck: 'We start by closing the shade-screens, leaving a 30 to 50-centimeter gap , because otherwise it will get too hot. Towards the end of April or in May, this is no longer sufficient. This is when we have ReduSol applied.'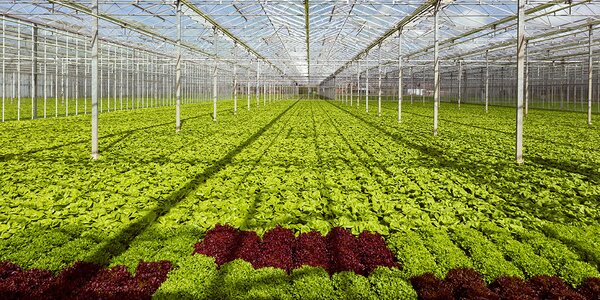 'In the past we used regular chalk, but ReduSol is easy to apply in a uniform layer and it is easier to remove'
Easily Removable
He is happy with ReduSol. 'In the past we used regular chalk, but ReduSol is easy to apply in a uniform layer and it is easier to remove. This was not always the case with chalk.'
Usually, he calls the contracting company De Ceuster to apply the ReduSol. 'The exact timing depends on the weather forecast. We do not apply a thick layer – 12 buckets per hectare – because we want to take advantage of all of the light the crop is able to cope with,' he says.
HEATWAVES
There were multiple heatwaves over the last three summers. For Van Dijck this has not resulted in a different way of coating or in reconsidering the type of coating. 'We did however use the screens more often. When it really becomes too hot, we can also make use of roof sprinklers. When you close the windows somewhat, the crop does not get wet. The groundwater here is perfect for this purpose: it does contain some calcium, but no iron.'
For the time being he is planning to continue to use the current method of working – a combination of ReduSol, screens and roof sprinklers. Despite the more extreme conditions that sometimes occur in summer, this is the most reliable method of operation.