Shade really matters to John Ellerbrook, co-owner of Blofield Nurseries near Norwich, Norfolk, in the east of England. He's one of the country's best-known specialists in evergreen shrubs such as azalea, camellia, euonymus, photinia, pieris and rhododendron – all woodland shrubs that demand just the right kind of shade if they are to command premium prices for the quality of their flowers and foliage when they're marketed.
The nursery propagates most of its requirements in-house – around 900,000 rooted cuttings a year – selling liners and finished plants, mostly on contract, to customers across Europe. So with 1.6ha of glasshouses, including 4,000sq m for propagation, the shade has to be easily managed as well as provide the right conditions.
"We apply shade coatings ourselves over the whole area of glass," says Mr Ellerbrook. "We started using ReduSol in 2002, after a bad experience the previous year with a product that we'd had to reapply three times in the season. So we were looking for something more reliable.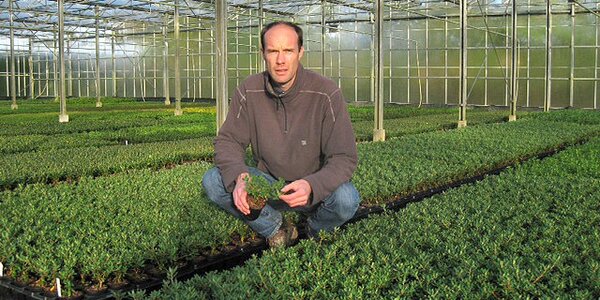 "We've never grown without some kind of shade coating."
"We use it to provide 70 to 80% shade and find that once it's on, it stays on and there's no deterioration in the level of shade, even after heavy rain or hail. It will only come off using the special cleaner, which means we have complete control."
He applies the coating in March or April, depending on light level and temperature, and uses the same judgment when deciding to remove it, which is usually around the second week in October. "We've never grown without some kind of shade coating," he says. "Protection from heat stress and scorch damage to the foliage is essential for these crops. The beginning and end of the season can be particularly tricky to judge as there is always the risk of an occasional bright, warm day."
This year Mr Ellerbrook trialled another Mardenkro product, ReduHeat, on the propagation house and for some of the camellia production. "We're interested in its ability to filter out the infrared light that heats the air, without cutting out the wavelengths that are important for photosynthesis," he says. "In the trial, it not only resulted in a better crop but a better working environment too.
"We found the effect particularly important in propagation. We had more breaks on the cuttings, resulting in a bushier liner, and we also think the foliage is a better colour. Temperatures in the house felt significantly lower than you would expect from the light level – maybe 25°C instead of 30°C.
"We did use the shade screen a bit more than usual – for example, it was closed earlier on bright, hot days and left closed until later in the day. But we think the big advantage compared with ReduSol has been on cloudy days when the crop really benefits from the extra light. It's almost like having clear glass. We'll probably now use ReduHeat over the whole propagation house."
Mr Ellerbrook also plans to trial two new coatings next season. "We're going to look at ReduFuse IR on some azaleas first. We think its ability to diffuse the light while reducing temperature will be useful. Diffusion should improve foliage colour and produce more branching by increasing the amount of light right around the plant. If so, it may turn out to be the best coating for the whole nursery."
ReduFlex Blue, meanwhile, will be tested for camellias. "We did a very small trial with it this year and it prevented the usual late-season growth flush, so the plant put more energy into bud initiation, which is what I'm looking for," he says. "We'll be running a fuller trial in 2015.
"We've had great support from Mardenkro and its UK supplier, Fargro, in doing these trials, talking to us about the effects we are looking for and how to use different coatings to manipulate the environment. That's so important to us as it gives us confidence in using the products. The value of these plants is in their visual appeal and that is something we can't afford to put at risk."