Top-quality Lisianthus benefits from diffuse coating
For the propagator , as well as Lisianthus growers it is essential to control light to obtain the best possible result: a beautiful strong cut flower with a sufficiently long stem.
Growing Lisianthus flowers has become increasingly popular in recent years. Grower Floralis has many years of experience growing Lisianthus. In 2018, they were presented with the Master Grower Award, accompanied by an extremely high jury rating, for their deep-red variety Arosa Red. The brothers Jan-Willem and Anton Aarse have every right to call themselves specialists.
'We grow year-round and use hybrid assimilation lighting for this purpose: SON-T and LEDs collectively provide a lighting level of 340 µmol/m2,' says Jan-Willem Aarse.
Lisianthus is a light-loving cut flower but can be adversely affected by heat. That results in a too short, compact crop.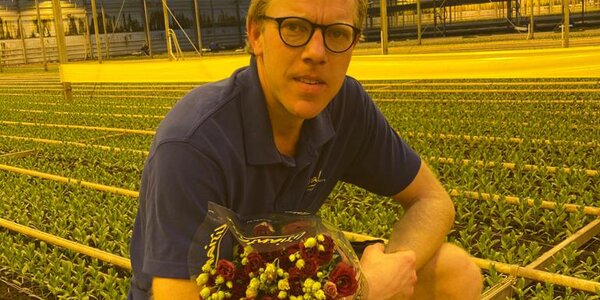 'The reason for using diffuse light is because it penetrates more deeply into the crop'
Jan-Willem Aarse of Floralis
Propagator
Growing is a controlled process that begins at the propagator. 'Flower bud development is determined at the propagator. However, this must not happen too soon. When there is too much light and heat, the flower may become too short. This is why the grower starts applying a sun-reflecting coating at the end of March, progressively adding multiple thin layers over time. In the summer this is not sufficient, and extra cooling is required,' says Aarse.
The transition from the propagator to the production greenhouse represents a major change for the young plants. 'We protect the young plants with ReduFuse, but at the beginning we also close the solar screen. The screen's fabric contains different structures in bands: one third open, one third closed and one third diffuse,' says the grower.
Diffuse Light
Floralis has been using ReduFuse for six years. 'The reason for using diffuse light is because it penetrates more deeply into the crop. The coating causes virtually no light loss, while it makes for a much more pleasant greenhouse climate for the plants as well as employees. It helps create a far more pleasant working climate. Workers really like it and for me this alone is a major plus point,' he says. Aarse: 'The plants' temperature stays more stable. Frequent changes in temperature cause quality problems. We never considered other coatings, because we are satisfied with this coating.'
Contractor Klaas Quartel applies ReduFuse to the greenhouse roof, as well as to the wall on the sunny side, at the end of April or the beginning of May. The coating gets removed in September or at the beginning of October. 'The exact timing for removal depends on the weather in the late summer. While there is some wear, this is not an issue. To avoid this, you could apply some more buckets. However, we like to stick with thin coats: 12 to 13 buckets per hectare. For us that produces the best results.'