Growing under a new coating is a learning process
Leo and Maikel van den Berg have been growing sweet peppers at two locations in Bleiswijk, the Netherlands, since 2012. This was the year they took over a greenhouse from a colleague. During the first season they found it difficult to maintain sufficient growth at this new location. To try and achieve some steadiness in production, they applied ReduFuse to the roof in 2013. "We saw some improvement, but we've still got a lot to learn," says Maikel van den Berg.
Maintaining sufficient growth, even during the summer months it a big challenge for sweet pepper growers. Father and son Van den Berg, who in total have nine hectares of greenhouses, manage it reasonably well. "Luckily things are improving for sweet peppers," says son Maikel. "Last year the market picked up again." Until now they've grown the variety 'Inzell', but this year they are switching to 'All Rounder'.
The nursery, Kwekerij Leo van den Berg, has been producing yellow peppers in a 4.5 metre high greenhouse since 2003. The greenhouse at their new, nearby location was built in 2005 and is six metres high. During the first year they soon realised that it wasn't possible to grow here in the same way as in the other greenhouse. In late May/early June growth almost came to a standstill, with all the consequences that brings. "The higher greenhouse certainly has a tremendous impact when it comes to climate control," says Maikel. "We really had to make changes. We had to adjust the P-band and the ventilation to other settings than we were used to."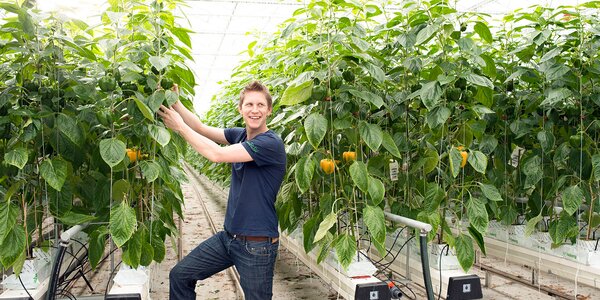 "A big advantage of a diffuse coating is that you can apply it at a time when it's most convenient. That gives us flexibility."
Create a climate
"The first year with the new greenhouse was challenging. The plant load was certainly too high," says the pepper grower. "We evaluated everything. We realised we needed to grow more steadily by maintaining a smaller difference in day and night temperature. Also in 2013 we sowed a week earlier so that the plants could start the season with more roots. In order to create a more even climate we applied ReduFuse in week 17 according to the recommended dosage," he explains.
The climate in the greenhouse with ReduFuse was milder and in the first week after its application the plant balance showed good signs of recovery. "However, later in the summer the plants still found it hard going at this new location. The bottom of the crop was warmer in this greenhouse than in the older greenhouse. Again we lost momentum in growth which was disappointing. Plant temperature was too high and couldn't be solved with extra ventilation. But the crop under the ReduFuse was certainly better than the year previously. We didn't experience the extreme peaks."
"This year we will continue to look for the most optimal growing conditions. We might do something about the watering or perhaps we should do something else about the night temperatures."
Big steps
"A big advantage of a diffuse coating is that you can apply it at a time when it's most convenient. That gives us flexibility. Recently we have had many interesting discussions with Mardenkro. Personally I'd like to know if it's possible to make a mixture, for example from ReduFuse and ReduHeat in order to benefit from diffuse light and at the same time keep the greenhouse cooler. We'd also like to know how ReduFuse works when the sun is low. We saw a jump in the greenhouse temperature at around 9.00 am. We need to look into this further. How is it possible and what does it mean for crop development?"
Van den Berg concludes: "We still have to learn how to work with the new coatings. Some big steps have already been made but we still don't have the best solution. I reckon we'll still be talking about this in five years time."