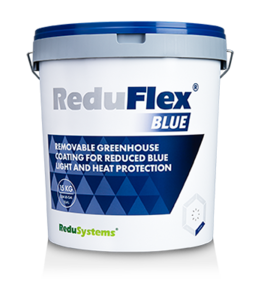 ReduFlex Blue
ReduFlex Blue is a photo-selective coating which has a beneficial effect on the cultivation and production of cut roses because it transmits relatively less blue light than red light. It also reflects high levels of infrared radiation (heat).
As a result, the ratio between the light colors changes. ReduFlex Blue improves photosynthesis by allowing crops to reap optimal benefits from relatively high amounts of red light. At the same time, it lowers the greenhouse and plant temperatures by more reflection of high-energy blue light and infrared radiation. With certain crops that are sensitive to this it increases stem length. This is often much desired for cut flowers like roses.
SPRING
SUMMER
FALL
WINTER
Properties
Better quality due to less blackening of buds
Longer stems in roses
Lowers the greenhouse temperature
Prevents overly high plant and bud temperatures
Suitable for glass and plastic greenhouse covers
Easy to remove with ReduClean
How to apply?
The best and longest-lasting results, with optimum light transmission, are obtained when ReduFlex Blue is applied to a clean, dry greenhouse roof, as follows:
Fill the mixing tank with the required quantity of clean water and add ReduFlex Blue, stirring continuously.
Stir the spray liquid frequently during the application.
Apply ReduFlex Blue evenly to the greenhouse surface, preferably using a spraying machine.
Do not use any non-ReduSystems shading products in combination with ReduFlex Blue.
Do not apply when rain is expected within 12 hours, respect drying time.
How to remove?
ReduFlex Blue is easy to remove with ReduClean. Spray at least 250 liters of ReduClean per hectare, diluted with 5-7 parts of clean water, evenly on the desired roof area. Only apply ReduClean when a considerable amount of rain is expected within one week. The rain will wash off the ReduFlex Blue layer.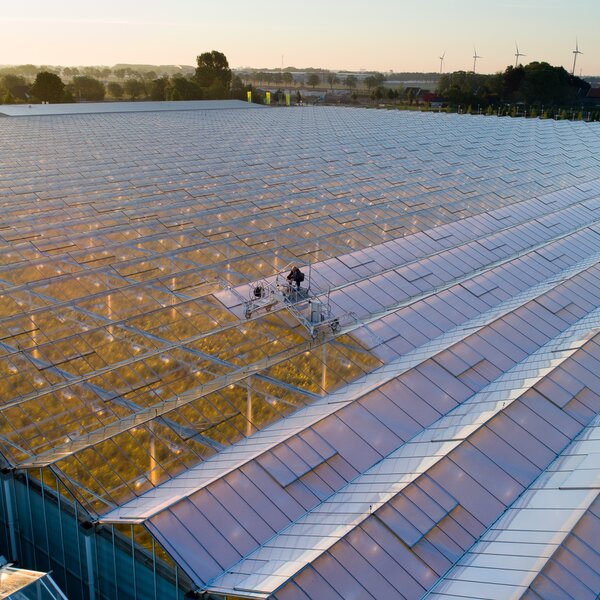 SEVERAL APPLICATION METHODS
The product can be applied manual, by machine or by helicopter. A proper application partly determines the desired effect.
Application methods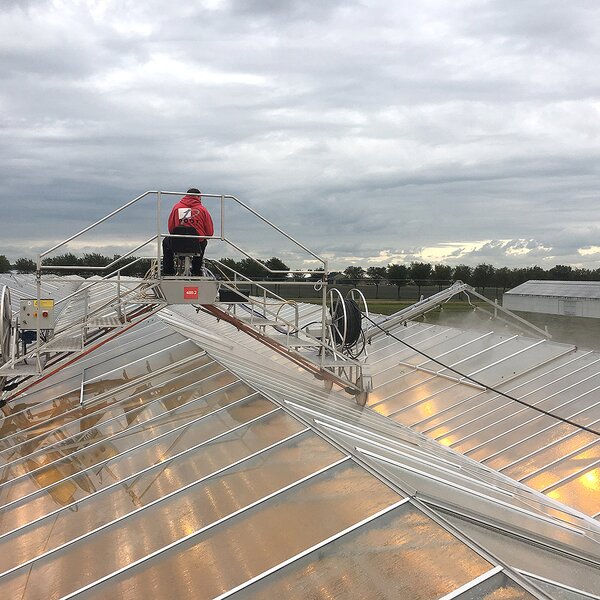 REMOVE WITH REDUCLEAN
ReduClean has been specially developed to easily remove ReduSystems coatings from the greenhouse cover.
reduclean
Frequently asked questions
Where can I buy your products?
We have a large network of distributors around the world. We work closely with our local distributors to offer our products and specialized solutions for each specific crop. You can find an overview of our distributors on this page. It is not possible to purchase products directly from Lumiforte.
Which ReduClean version do I need?
Three types of ReduClean are available:
ReduClean: standard version to remove ReduSol, ReduHeat and ReduFlex Blue.
ReduClean DT: extra-concentrated version of ReduClean for use with a Dosatron to remove ReduSol, ReduHeat and ReduFlex Blue.
ReduClean for diffuse coatings: special ReduClean version to remove ReduFuse and ReduFuse IR.
How long can the products be stored?
The maximum shelf life differs per product. For specific details, please check the product packaging or the product pages on our website. Products should always be stored in their original packaging in a cool, well-ventilated place. Products should be protected against frost (above 5 ⁰C) and overheating (below 35 ⁰C).
ReduSol: unopened containers have a shelf life of two years.
ReduHeat, ReduFuse, ReduFuse IR, ReduFlex Blue, SprayChalk: unopened containers have a shelf life of two years. After one year, it is necessary to stir well in the bucket before mixing with water.
AntiCondens: unopened containers have a shelf life of one year.
AntiReflect: when stored at a temperature above 5 ⁰C, shelf life is four weeks after receipt.
PipePaint: unopened containers have a shelf life of two years. Always stir before use.
All ReduClean versions: unopened containers have a shelf life of three years.
GS-4 (Xtra): unopened containers have a shelf life of three years.