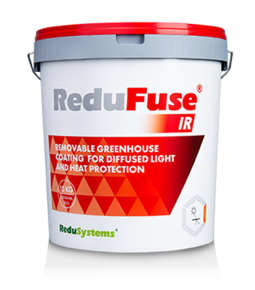 ReduFuse IR
ReduFuse IR is a coating that reduces heat radiation while diffusing the light when it enters the greenhouse. That improves growth and production.
A diffuse coating distributes the incoming light. This leads to the top of the crop getting a bit less light, the middle leaves more. Net photosynthesis therefore increases. ReduFuse IR distributes sunlight in the greenhouse and protects the crop from heat radiation.
ReduFuse IR is suitable for all crops that are heavily dependent on light and has proven successful when applied to flowers, plants, and vegetables in warm climates and during warm periods. ReduFuse IR is ideal for crops that thrive on diffused light but cannot stand too much heat.
SPRING
SUMMER
FALL
WINTER
Properties
High reflection of heat radiation
Lowers the temperature of the top and whole plant
Less stress in the crop
Suitable for glass and plastic greenhouse covers
Remove with ReduClean for diffuse coatings
How to apply?
The best and longest-lasting results, with optimum light transmission, are obtained when ReduFuse IR is applied to a clean, dry greenhouse roof, as follows:
Fill the mixing tank with the required quantity of clean water and add ReduFuse IR, stirring continuously.
Stir the spray liquid frequently during the application.
Apply ReduFuse IR evenly to the greenhouse surface, preferably using a spraying machine.
Do not use any non-ReduSystems shading products in combination with ReduFuse IR.
Do not apply when rain is expected within 12 hours, respect drying time.
How to remove?
ReduFuse IR should be removed with ReduClean for diffuse coatings. Spray at least 250 liters of ReduClean for diffuse coatings, diluted with 5-7 parts clean water, per hectare evenly on the desired roof area. Only apply when the roof surface is dry but heavy rainfall is expected within 2 days.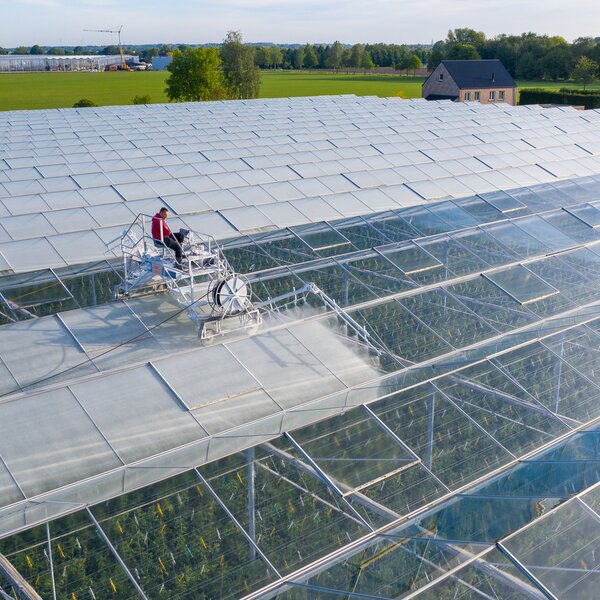 SEVERAL APPLICATION METHODS
The product can be applied manual, by machine or by helicopter. A proper application partly determines the desired effect.
application methods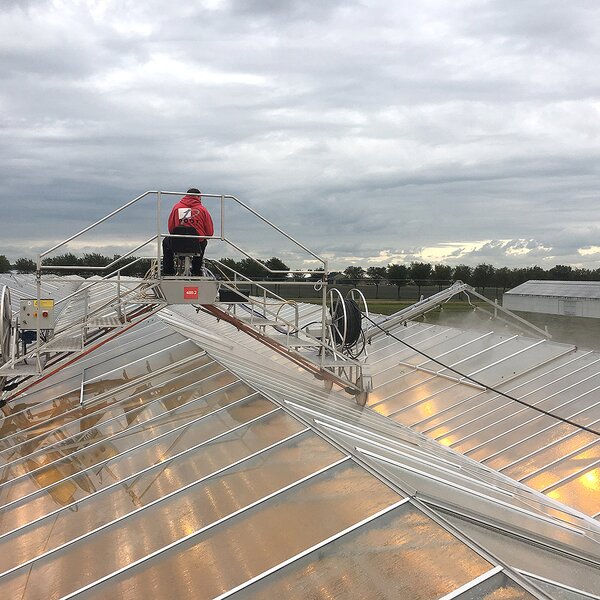 REDUCLEAN FOR DIFFUSE COATINGS
ReduClean for diffuse coatings has been specially developed to easily remove diffuse coatings from the greenhouse cover.
read more
Frequently asked questions
Can I use ReduFuse IR on plastic?
Yes, ReduFuse IR can be used on plastic. Many types of plastic already diffuse the light to some extent, so extra diffusion is often not necessary. However, ReduFuse IR reflects part of the heat too so it can be a worthwhile addition for plastic greenhouses.
Where can I buy your products?
We have a large network of distributors around the world. We work closely with our local distributors to offer our products and specialized solutions for each specific crop. You can find an overview of our distributors on this page. It is not possible to purchase products directly from Lumiforte.